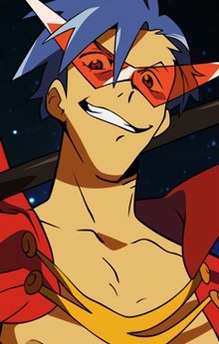 Kamina
カミナ
Kamina is a young man from Jiiha village who dreams of leaving the village and go to the surface, which he saw as a kid. He's very passionate about his goals, expressing his wishes through energetic speeches, which seems to affect all those who hear him. He convinces Simon to help him with his plan to drill through the roof of the village and get to the world above, but the plan failed and he was put in prison. He left the village shortly thereafter with the help of Simon and a young girl named Yoko, as a result of fighting a Gunmen, who broke into the village from the surface.
Kamina gets fatally injured during the battle to capture the enemy's moving fortresses belonging to one of the Four Divine Generals, Thymilph. Heavily wounded Kamina combines with Simon to form Gurren Lagann and defeats the Beastman General with his signature move: "Giga Drill Break." Kamina dies in the cockpit, leaving Simon with this: "Don't believe in the Kamina who you believe in. Don't believe in the Simon that I believe in. Believe in the Simon who believes in himself."
Kamina is buried in the battlefield where he died, his nodachi stabbed into the ground and his cloak tied to its sheath.
He helps wake Team Dai-Gurren from the fake universe they were put into by the Anti-Spirals.