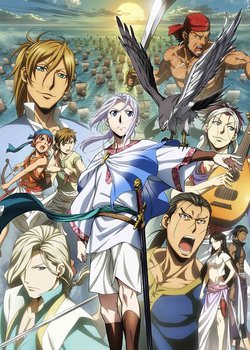 Arslan Senki (TV): Fuujin Ranbu
Continuing on his quest to retake Ecbatana, Prince Arslan and his company march toward the city. But upon receiving news that the neighboring Kingdom of Turan is launching an assault on the Parsian stronghold at Peshawar Citadel, the prince is forced to turn back in order to defend the fortress. Amid holding off the invading forces, the Parsian army is met by an unexpected visitor. As Arslan returns to Peshawar, Prince Hermes takes a slight detour from his clash against his cousin to search for the legendary sword Rukhnabad, which would grant him the right to rule and take back what he believes is rightfully his. However, after unearthing the lost artifact, the blade is stolen by the Temple Knights of Lusitania, prompting the masked warrior to give chase. Meanwhile in Ecbatana, the captive King Andragoras III finds an opportunity to strike and begins to make his move. As the separate sides of the Parsian royal conflict clash, Arslan's right to the throne falls under attack. But no matter the obstacles in their way, the young prince and his loyal band of warriors charge forward to restore Pars to its former glory.
Very good and well thought out but I wish it didn't end on a cliff hanger. Hopefully the series continues
Like I mentioned in my comment in the first season, I also really hope that there will be a next/last season someday. This is my absolute fav anime and without a continuation there would always be something missing in my life, honestly. I NEED to see more and also the end of this. I know, there's also the novel and the manga but for me this is something completely different.
No, I haven't seen that one yet but I heard of it. Would you recommend? Btw, it's not that I'm especially into historical anime or something, however, they definitely can be awesome when made well.
Hmm well, it has really nice historical aspects in my opinion but I watched Kingdom first and then Arslan senki and found that they were similar. Personally it's in my top 3 favorite anime but you may not like the CGI in season 1. I'm not sure how you feel about CGI but season 2 and 3 get much better but it is an on-going anime but I guess because of COVID it got stopped. I just love everything about it.
I don't think I would like the visuals more than in Arslan Senki but it does not look bad so I will definitely give it a try :) Thanks for the recommendation!
Have you seen Akatsuki no Yona? I would say it's less historical and it definitely is different to Arslan Senki but they still share a lot of parallels as well. If you like these kingdoms & princes/princesses stories in general, you should give it a try.
There's the manga of it you can read. Sometimes manga is better than the adapted anime too. If you're worrying about the fact that you won't enjoy manga too much then trust me you'll love reading manga more than watching anime. My opinion could be off too considering different people's perspectives.
I know that there's a manga and also a novel, that's what the anime is based on. I even own some of the manga volumes. And yeah I like reading manga but no, I do not enjoy reading manga more than watching anime. That's why I said that I definitely need the anime sequel. And apart from that, I don't think that the manga is finished either since that's the main reason why the anime doesn't get a new season, afaik. Of course, I will read the manga and maybe even the novel someday. But I do always wait with reading a manga of a good anime because I do not want to get spoilered. For me, it's much more exciting to see new scenes in anime than reading them in manga. I'm just that type.