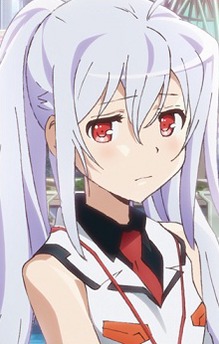 Isla
アイラ
Isla is a female Giftia with twin-tails and has a childish appearance which causes those around her to feel the fleetingness of life. She is a veteran at the department Tsukasa works in and was also partnered with Kazuki in the past. After that, all she does is serve tea for her fellow co-workers. When Tsukasa arrives, she becomes his partner and goes back into the field again.
She is extremely clumsy and retreating in personal life, but her true personality is revealed to be slightly childish, lively, fun loving and caring.
At the end of episode 2, it is revealed Isla only has 2000 hours left in her lifespan.
It is also revealed that her retreating behavior is all because of her short remaining time span, and her bad experiences from the past, including breaking up with her initial partner, Kazuki.
Throughout the series, her relationship with Tsukasa develops from partnership to friendship, and ultimately to love, which Isla greatly regrets, as she has very little time left, but thanks to their colleagues and friends, both Tsukasa and Isla are able to admit their true feelings to each other.
She ends up being retrieved by Tsukasa on her final day, happy that he will have good memories of her.