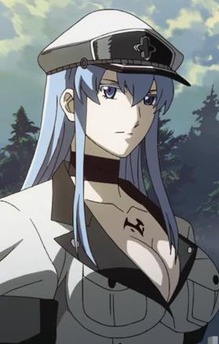 Esdeath
エスデス
Esdeath is a high-ranking general of the Empire, and leader of the Jaegers. She enjoys torturing her enemies slowly. Despite her sadistic actions, she is actually shown to have a compassionate heart when it comes to the lives of her men and others close to her. Eventually, due to Night Raid's effectiveness as an assassination unit, she becomes the leader of the Jaegers under the orders of the Prime Minister.
In Japanese, Esudesu is a play on the phrase "S, desu!", which means "I am a S(sadist)".
Despite her reputation, Esdeath possessed great charisma, able to inspire many to fight for her. Even Run, who expected her to be a scumbag, softened his stance on her, despite his otherwise apprehension towards her sadism.
Overall, she is quite intelligent and invents new torture methods and moves, such as her trump card Mahapadma.
She was looking for love and although her expectations were high, when she saw Tatsumi's skills and smile she fell in love with him.
In the last episode, Esdeath is defeated by Akame with a single cut to the chest.
She possessed a powerful Teigu called Demon's Extract that allowed her to manipulate ice and mold it from nothing.
Esdeath was considered the finest soldier in the Empire's army and one of the world's strongest, She single-handedly overpowered the entire Revolutionary Army consist of over 100,000 soldiers including ten Teigu users.
Esdeath had sharp senses and was very aware of her surroundings, being able to detect someone's killing intent at a long distance, identifying suspicious characters in a group, as well as spotting hidden individuals even if they weren't directly within her line of sight.
She was considered a master strategist with an uncanny skill in psychological warfare.